Delicious Chocolate Gifts - Branded and Personalised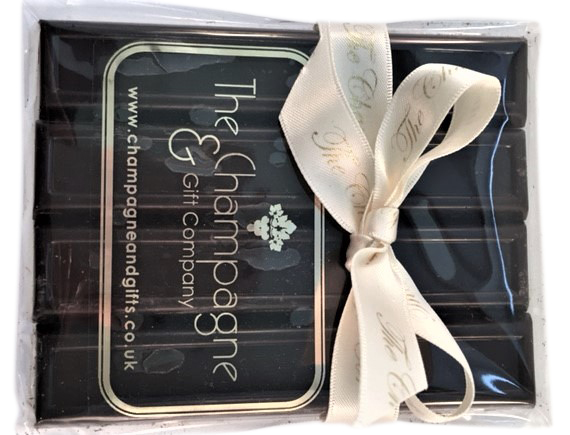 A delightful selection of dark chocolate thins, pretty chocolate flowers and leaves

We source our deeply balanced dark chocolate from a luxury Chocolatier established in1965
and their expertise gives the chocolate a deep, nuanced flavour that you would expect.
The chocolate itself is dark and semi-sweet. Made the way chocolate should be, using only 5 ingredients – all-natural. It has a top-end taste!
Ornately decorated and simply finished with cellophane and ribbon for an effortlessly elegant gift.
A lovely finishing touch that can be added to our personalised bottles.
The most delightful small gifts are chocolate or flowers – so our luxury Chocolate flower and leaves selection is the perfect answer! Who can resist pretty flowers especially if they're chocolate?
Made from high-quality ingredients - a deliciously indulgent and beautiful chocolate treat. This is a perfect gift for a loved one and unique favour to add the wow factor to your wedding or party.




Our delicious chocolate is bursting with

flavour and you may want to hear that it is
dairy free and vegan-friendly.

In fact, there are only 5 ingredients in our chocolate.
You will not find a "poem" of ingredients on the back!

Each gift is delivered with a stylish gift card.

Just enter your message or witty note in the
"Finishing Touches" section of our website.

For a message that is just too long or too special
you can add a personalised scroll!
Other Luxury Chocolate Delights
White Chocolate Heart

" Benjy"
Chocolate Cigar

"Rosie Rose "
Solid Chocolate Rose shimmered with Gold
Personalised & Branded Chocolates
Delivered to your premises for an event or . . . smartly delivered straight to your client
Some say that the most important customer is the customer you already have! Your customers are the foundation of your business – so treat them to a small branded chocolate gift. Advertise your brand with unforgettable luxury branded and personalised chocolates. An easy, cost-effective way to remind clients that you value their business.
Great customer service shouldn't just satisfy… it should delight!
All our gifts are beautifully presented and packaged, and our experienced team are committed to the highest level of customer service. We offer a speedy turnaround – just send us your company logo and we will design a label free of charge.
Branded Prosecco with Logo Branded Chocolate Batons

Chocolate Batons for Hobbs Event

Smartly Displayed Message Cards

"It's My Birthday"




Smart Chocolate Packaging
The Champagne & Gift Company
Leading suppliers of Personalised & Branded Gifts