Personalised Anniversary Champagne is the perfect way to mark a special occasion. You can send a single bottle of personalised Anniversary Champagne or to really impress, send one of our luxury personalised Champagne Anniversary hampers?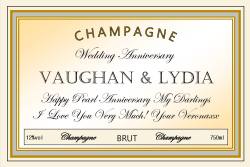 Whatever the occasion, The Champagne and Gift Company's collection of beautiful personalised Anniversary Champagne gifts will add a touch of glamour and sparkle to the celebrations. We can create a personalised label for your exclusive Anniversary Champagne. For added impact, you can present your Anniversary Champagne in a beautiful presentation box. This can be gift wrapped with a beautiful hand-tied bow to add a special finishing touch.
"Duke" Personalised Champagne Gift Set with Champagne Tools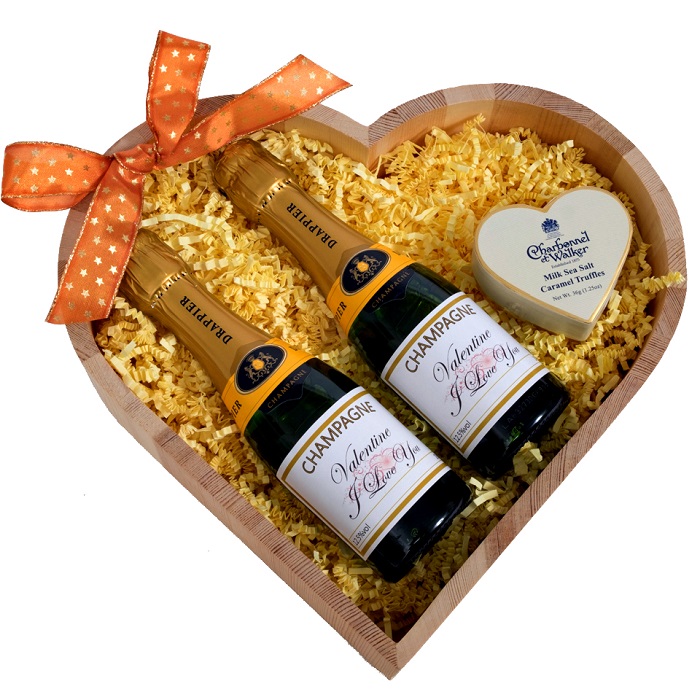 Miniature Personalised Champagne Gift Set in Heart Box
Personalised Grand Cru Champagne
Personalised Anniversary Champagne Hampers
Anniversary Champagne hampers make delightful and thoughtful gifts which are sure to be warmly received by the recipient. Each personalised Anniversary Champagne hamper has been created with luxury in mind. We aim to create beautiful luxury gifts and so only select the most exclusive items for our personalised Anniversary hampers.
The Anniversary Champagne hampers all include a bottle of personalised Anniversary Champagne to mark the special occasion. Your Anniversary Champagne can be made even more special by adding your own special message onto a personalised Champagne label to create a truly unique personalised Anniversary Champagne gift.
You can choose to present your personalised Champagne in a choice of wooden or silver presentation box; we focus on the detail to create a beautifully wrapped personalised Champagne gift unlike any other.
We can gift wrap your Anniversary hamper and send it directly to the recipient. Or if you wish, your Anniversary hamper can be sent to you to hand-deliver. All our Anniversary hampers come with a complimentary message card for you to add a personal note.
Champagne UK and International Delivery
We deliver personalised Champagne gifts throughout the UK and Europe and we offer personalised Champagne next day delivery. We also deliver internationally - please contact us by email or telephone to make arrangements..
Take a look at our wide range of personalised Anniversary Champagne gifts which are tailored for you. The Champagne and Gift Company is the number one shop for unique personalised Champagne gift ideas.
The Champagne and Gift Company
Leading supplier of personalised Champagne gifts UK