Champagne Magnums & Jeroboams


The Champagne & Gift Company -
Sending Gifts Around The World
Looking for the ideal gift to show that you appreciate somebody and that you know what will capture their imagination? A Champagne magnum makes an ideal gift - double the size - and thus double the fun! Sending a magnum will really make your recipient feel valued and treasured. The Champagne & Gift Company is the home of quality Champagne and we seek to ensure that enthusiasts enjoy the latest and best Champagne magnums on the market. The result is a successful business with a focus on corporate gifting. Our customer service is 5-star and we are rated "Excellent" on Trustpilot and . . . they use us for their own corporate gifts!


At the Champagne and Gift Company, we offer a gift service that is second is none. All our Champagne magnum orders are hand prepared to your exact specification and we can send your Champagne magnum gift direct to the recipient or to yourself to hand deliver. You can be sure that when you shop your personalised Champagne magnum will be exactly as you had in mind. You can select from our wide range of finishing touches including diamante crystals, hand-tied ribbons and beautiful gift boxes. We offer a choice of stylish presentation boxes and we offer a premium gift wrapping service where you can choose from our Traditional or Luxury options. We offer a next day Champagne delivery in the UK and deliver to most international destinations . . . please just ask if you have any special international Champagne delivery requests.
We are a specialist Champagne importer and are able to personalise any bottle either with a label or by engraving.
If you cannot find your perfect gift, call us on 0800 849 7849 and speak to one of our friendly team.
Champagne

Magnums for Business Gifts
A very impressive Corporate Champagne gift and you can choose and design your own label with a name and your special message. You can also put a company logo on the label - this is all done directly online. Many of our corporate clients prefer for us to design a unique label for them and this service is complimentary. We specialise in personalised and branded Champagne. Whether you are looking for a corporate business gift, birthday gift, anniversary gift, wedding gift or for any other occasion, you can be assured that we will have the perfect solution. We source our Champagne in France from quality growers and pride ourselves on the quality and smoothness of our Champagnes.


PERSONALISED MAGNUMS FOR SPECIAL OCCASIONS
We primarily use gold award-winning Baron Fuente Grande Reserve from the House of Baron Fuente and this can be personalised with your own special label. Appealing to both your taste and smell, combined with its elegant looks it really is the perfect gifting Champagne It is very easy to create your personalised label. Simply select your favourite label from our wide selection and add your message to create a truly unique and special Champagne gift. Every order comes with a complimentary personalised gift card.
We offer our Signature Grande Reserve in half bottle, standard size bottle and magnum size and for something a little different, we also offer personalised miniature Champagne and a personalised Jeroboam of Champagne. We create personalised Blanc de Blancs (a Champagne & Gift favourite), personalised Grand Cru and personalised Rosé Champagne.

We have a superb collection of Magnums from top Champagne Houses
This fine Champagne house with its signature "Bee" has vineyards in Champagne in the Igny-Comblizy which is in the Marne Valley of France. They produce only the best Vintage Millésime Champagnes but have now also introduced the special Ice Champagne to their range.

The sleek and contemporary packaging make this wonderful Champagne ideal for Corporate gifts and it would also make a superb gift for a special occasion!

With its chic and classy packaging oozing style and sophistication, this Champagne really does look as good as it tastes. With a choice of either the 2007 Brut Millesime or the classic Rosé.

Comtes de Dampierre is a wonderful small Champagne house based in Bouzy. Dampierre produce only the highest quality champagnes and their passion for only creating the best Champagnes has led to Dampierre being served in the Spanish royal court, 42 French embassies and many other prestigious institutions.

Award winning and rating in Le Guide Hachette des Vins, Frances most authoratiative guide on fine wine it is rich, mellow and extremely charming.

Since the 17th Century, the Baron family has owned a vineyard in stunning Charly-sur-Marne in the western area of Champagne. The company, in its present incarnation, was started in 1961 and now owns 38 ha of vineyards. We choose to use the International Gold Award-winning Grand Réserve for our personalised bottles. It is a quality Champagne and drinks extremely well - an excellent aperitif or occasion Champagne.

Bollinger is one of the most respected Champagne houses.
The company was founded in 1829, and it still remains under the control of the Bollinger family.

One of the last truly independent large houses. Classic in style 'Bolly' is has a distinctive character and ages well.

This fine range of Champagnes is produced by the Autrey family and has been established since 1670. This is a classically made Champagne using grapes sourced from Premier Cru vineyards in the Marne Valley.

The Champagnes are predominantly a blend of Pinot Noir and Pinot Meunier with just a hint of Chardonnay. It is a top-quality Premier Cru Champagne with citrus and floral aromas and bursting with full flavours.

Moet & Chandon is one of the world's most loved Champagne brands and has been creating unique and elegant Champagnes for nearly three hundred years.

Founded in 1743, Moët & Chandon celebrates life's memorable moments with a range of unique champagnes for every occasion.

More than 100 wines are used in the blend to enhance maturity and complexity while maintaining the distinguished Moët style.
We would be delighted to create a personalised Champagne Magnum gift for you
please contact us on bespoke@champagneandgifts.co.uk or 0800 849 7849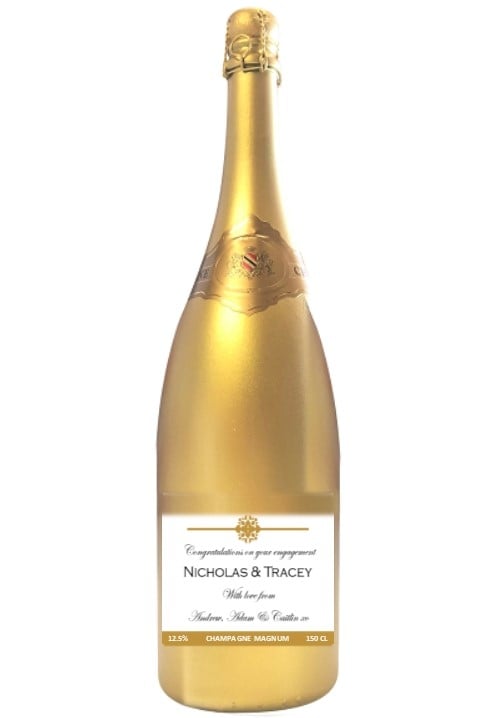 The Champagne and Gift Company
Leading supplier of personalised Champagne magnum gifts

Sending Gifts Around the World