Miniature Champagne Bottles
Every celebration deserves a bottle of the finest bubbles and our mini Champagne bottles are great as gifts for giveaways and event goodie bags and with approximately 2 glasses of Champagne in each bottle are perfect for sharing an evening, aperitif glass of bubbly. We can create personalised miniature Champagnefor every occasion, working closely with our clients depending on budget or brief. There is no minimum order and we make sure that whether you are ordering 1 or 1000 bottles, your mini Champagne will look amazing!
Our stunning miniature Champagne bottles can be personalised with your own label which is fun and easy to create. Simply choose your favourite label template and then add your special message, photograph or company logo. We can personalise the labels with any wording you may require - just create a label online. If you would like us to create something especially for you then just get in touch - we will do this free of charge for you.
Premier Cru Champagne

Our signature mini Champagne has a superb taste and is Premier Cru Champagne.
It is produced Champagne Autreau - one of the finest Champagne vineyards!


Mini Champagne Bottles Personalised for Businesses & Events
The Champagne and Gift Company offers an exclusive bespoke service. We can tailor Champagne gifts to suit your requirements.

Mini Champagne with your company name and logo on a custom-designed label adds distinction and style to any brand or organisation
Top-quality Premier Cru Champagne for companies, conference venues, trade associations, brands, sports clubs, or any other organisation that organises corporate hospitality and events.


SHOP CORPORATE BRANDED MINIATURE CHAMPAGNE

Personalised Miniature Champagne
The Champagne and Gift Company specialise in making mini Champagne and Prosecco look amazing! We offer a range of crystals, ribbons, straws and flurry to add the finishing touches to your miniature bottles.
Whether you require many bottles for a wedding or corporate event, a few bottles as a gift or a mini Champagne hamper, we can guarantee your miniature bottles will be delivered on time and look amazing!
Can't see what you're looking for?
We are always delighted to help.

Contact us on
bespoke@champagneandgifts.co.uk or 0800 849 7849

Mini Champagne for Weddings

Perfectly petite & party ready!
Miniature Champagne bottles with a personalised label are ideal for birthdays, weddings or corporate events

Mini bottles of Champagne with the Bride & Grooms name on the label are excellent wedding favours. Place a bottle at each seat as a place setting and give your guests something unique to take home and remember your special day. Miniature Champagne is perfect for bridal showers. Some ideas: "Pop the Champagne - I'm changing my last name" - "Will you be my Bridesmaid?" - "Emma - you are obviously going to be my Maid of Honour" - "Thank you for being part of our special day" - "Mother of the Bride"
Make your small personalised miniature Champagne extra special with a custom label -
can add your choice of name and message or even decorate with sparkling crystals that glitter like diamonds.

Choose from our exclusive champagne personalised label designs to suit any occasion.
You can personalise your mini Champagne bottles with a name, message, significant year... or even a photograph.
Use our themed templates to create bespoke labels for your personalised mini Champagne bottles.
SHOP MINIATURE WEDDING FAVOURS
Please contact us on bespoke@champagneandgifts.co.uk
or 0800 849 7849 and we will be happy to discuss your requirements.

Champagne Houses with Mini 20cl Bottle of Champagne - a rarity!
Not every Champagne house provides the 20cl quarter bottle of Champagne as they are more difficult to manufacture.
Our collection is the very best to choose from and we are a leading supplier of personalised miniature Champagne.

We also stock selections from Pommery POP, Laurent P
errier, Moet & Chandon and Lanson.
Pommery Mini Champagne
Our Pommery POP Champagne mini bottles add a touch of class to any evening. Mini Champagne bottles can be a treat to greet guests with to get the party started or to wave them goodbye so they remember the special occasion! Pommery POP Champagne mini bottles are ideal for hen nights and wedding favours. Pommery mini Champagne bottles are also ideal to celebrate birthdays, weddings, anniversaries, Christmas, parties...Whatever the occasion, mini Champagne bottles add a truly original touch.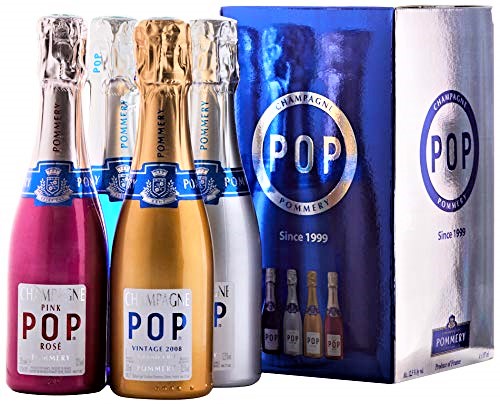 Browse Some of Our Other Personalised Champagne Gifts
Our selection of luxury gifts for the happy couple
Personalised Champagne gifts, scented candles, scrumptious chocolates and an incredible array of fine toiletries.
They're all there - and you are sure to find something that would delight and surprise in our selection.

Your personalised miniature Champagne can be sent on its own or together with a gift from our luxury selection.
We can send your Champagne gift either directly to the recipient or to yourself to hand deliver.

UK & International Delivery
We can deliver your personalised miniature Champagne to any UK address and offer a next day delivery. We also have speedy delivery to Europe and International destinations. We hold an export license and offer a speedy and safe international delivery to most parts of the world.
Please contact us by email or telephone to make arrangements for the delivery of your mini Champagne bottles. The Champagne can be sent on its own or together with a gift from our luxury selection. We can also send your personalised miniature Champagne either direct to the recipient or to yourself to hand deliver.
The Champagne and Gift Company
Online personalised miniature Champagne delivery